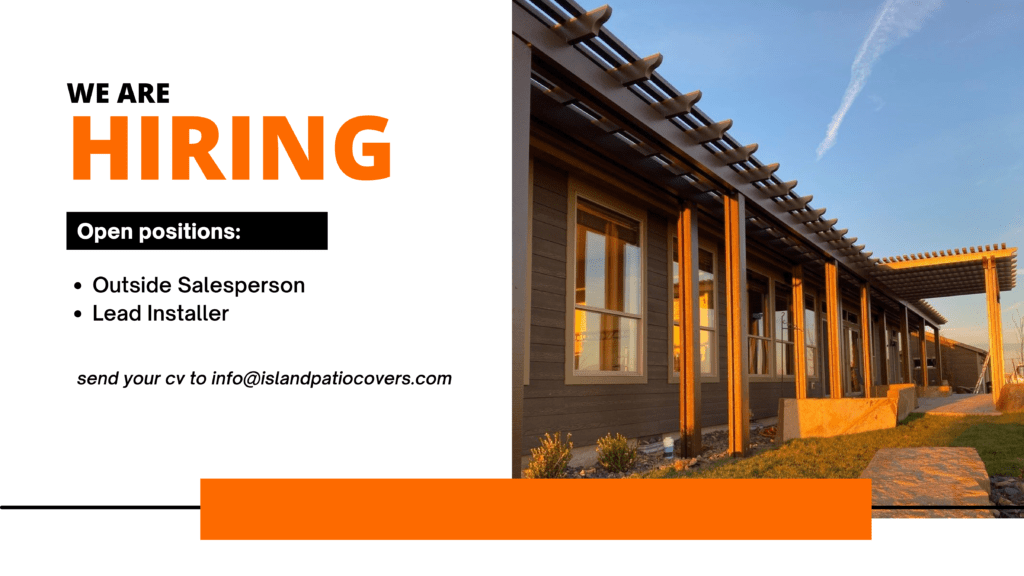 Are you a team player who has a positive attitude and is motivated to make money within their jobs?
Island Patio Covers, is an industry leader with an outstanding portfolio of design and locally manufactured Aluminum Patio Covers. We are currently hiring motivated, experienced, hardworking, and knowledgeable inside/outside sales personnel to join our rapidly growing company.
Essential Functions and Responsibilities for our Sales Representative jobs:
Outdoor Elements
Respond to sales inquiries
Respond to client's questions regarding products or services
Collaborate with Architectural Designers to establish the Project Scope of work and items involved.
Develop Cost Estimates for all new projects per the building Specifications and Blueprints.
Ensure that the Blueprint and Specifications sheet during the bidding process is accurate and then develop a sales agreement based on estimates for each project.
Develop Cost Estimates on any additional pricing upgrades and options that the buyers request after the initial build proposal and put them in an internal and external presentation format.
During the Build Process provide additional pricing for all inquiries from clients.
Process all change orders during the build process.
Collaborate with the production department, client, and designer and execute projects.
Provide ongoing support to the project management team as required throughout the project, including project handoff, responding to questions, providing backup information, selecting and negotiating with vendors for purchasing specialty items, assembling specs, and preparing material submittals for architect review
Provide customer service when necessary
Perform other duties as assigned
Ensure the project is designed, produced, and released in a timely and cost-effective manner.
Job requirements:
2+ years' experience in residential remodeling sales.
Knowledge of current residential construction methods and building codes.
Strong, positive communication and customer service skills.
Highly motivated, honest, dependable, solid work ethic
Knowledge of estimating and/or project management software preferred.
Familiar with sub-trades
Computer literate; proficient with Excel, Word, and PowerPoint.- Ability to work on multiple projects at once
Detail-oriented  
Are you a team player who has a positive attitude and is motivated?
Island Patio Covers is in search of career-minded individuals that align with our core values of QUALITY FAMILY and INTEGRITY. Island Patio Covers is unique by giving all customers solid education, solid communication, and solid installation. We are proud to say that we are the leader in outdoor living and construction for the past  20 years..
Essential Functions and Responsibilities for a Lead Installers:
Install patio covers and extended lanais
Read patio cover engineering
Crew leaders will collect payment
Answer homeowner questions
Maintain a clean and safe job site daily
Work in a team environment
Requirements:
Be able to train apprentices
2 years previous experience for crew leaders
Ability to lift 75-100 pounds
Attention to detail and quality craftsmanship
Possess a valid CA license
Availability Monday – Friday